If you, a family member or friend is suffering mental issues from PTSD or TBI, I hope this page can help you find the steps to start living a Free life with purpose, passion and love for each other.
First of all, if you or a Veteran you know are in an emotional crisis, please contact the National Suicide Hotline at 988 or 800-273-TALK (8255) and press 1 for Veterans. If you are a Female Veteran in crisis call 855-829-6636.  For more information or to speak with the Indianapolis VA Suicide Prevention Coordinator please call 317-988-3213. =================================================================================================================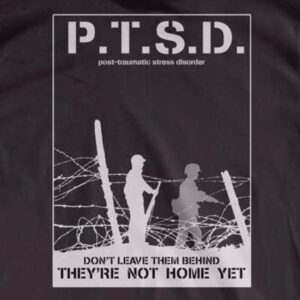 PTSD/TBI Links
Silouan Green, is an amazing individual who has lived through PTSD and is out there helping to bring others back from the darkness. He is a speaker, author, song writer among many other things and his website has many positive ways to help one chart a path to over come PTSD. His Ladder UPP workshops are amazing and he is always looking to do more. He helps individuals, communities, and organizations create deeper relationships that proactively addresses the impact of trauma. Silouan travels all across the country speaking with Doctors, nurses, Veterans, Military, Prisoners, drug addicts, Police, EMT's and Firemen making a difference in their lives and he can do the same for you. Look him up and reach out to him. Remember, you are not alone.
National Center for PTSD The National Center for PTSD is the United States government's center of excellence for research and education on the prevention, understanding and treatment of PTSD. Although providing no direct clinical care, the Center's purpose is to improve the well-being and understanding of American Veterans through cutting edge research to ultimately advance the science and promote understanding of Traumatic Stress. Click here for their ABOUTFACE program to hear Veterans tell their stories of how PTSD treatment has saved their lives. They also offer PTSD Coaching online which can be very helpful.
Rocky Mountain Hyperbaric Institute Hyperbaric Oxygen Treatment has been proven to increase cognitive abilities and RMHI is there to assist. Their Healing Our Heroes program supports our veterans by assisting with payments for hyperbaric oxygen therapy (HBOT) treatments. Many of our veterans have sustained a Traumatic Brain Injury (TBI), Post Traumatic Stress Disorder (PTSD), and Post Concussive Syndrome (PCS). Studies have been conducted using HBOT as an alternative therapy to medication. These studies have shown that patients receiving these treatments had a dramatic increase in cognitive abilities, improved recovery in motor skills and were able to decrease their anti-depressant medication intake.
HelpGuide.org – PTSD in Military veterans, a trusted guide to mental, emotional & social health issues with symptoms, treatment and self-help to recover from PTSD.
PTSD Self-Test & Guide is a self-assessment site to measure the presence and severity of PTSD symptoms one might have. It lists many points one can use to help in their determination and it has a Self Test you may take and submit for help. They have many resource links for all who need support with PTSD.
PTSD In Children – Learn what sorts of trauma leaves a child with PTSD, what the signs are, how it is diagnosed and how to treat it.
The Independence Fund.org raises funds to not only treat TBI/PTSD with HBOT therapy but they also offer mobility and caregiver programs. They setup a clinic in Charlotte, NC that treats our Veterans diagnosed with TBI/PTSD with HBOT and because they know it works and the need is greater than they can serve in this one clinic, they are opening more in Myrtle Beach and Palm Key. You may go to this site and fill out the paperwork needed to be setup for treatment.
Medline Plus – Their website lists many links to helpful sites on PTSD/TBI which are not listed on our page here. Please check them out to find the answers that will help you or your family member/friend recover.
Brainline BrainLine is a national multimedia project offering information and resources about preventing, treating, and living with TBI. BrainLine includes a series of webcasts, an electronic newsletter, and an extensive outreach campaign in partnership with national organizations concerned about traumatic brain injury.
NAMI Veterans and Active Duty – National Mental Health page that focuses on questions that Military personnel often ask concerning treatment, resources, disclosure and staying healthy during the transition to civilian life.
Substance Abuse & Mental Health Services Administration – SAMHSA facilitates innovative community-based solutions that foster access to evidence-based prevention, treatment, and recovery support services for military service members, veterans, and their families at risk for or experiencing mental and/or substance use disorders by providing state-of-the-art technical assistance, consultation, and training. SAMHSA does this work in close partnership with TRICARE, Department of Defense, and Department of Veterans Affairs (VA) services.
Military Sexual Trauma – Both women and men may experience MST during their service. All Veterans seen at Veterans Health Administration facilities are asked about experiences of sexual trauma because we know that any type of trauma can affect a person's physical and mental health, even many years later. We also know that people can recover from trauma. VA has free services to help Veterans recover from this type of trauma. You do not need to have a service connected VA disability rating to receive these services and may be able to receive services even if you are not eligible for other VA care. You do not need to have reported the incident(s) when they happened or have other documentation that they occurred. This website has information about the health care services that VA has available for Veterans who experienced MST. Please view this fact sheet Disability Compensation for Personal Assault or Military Sexual Trauma for information about VA disability compensation for conditions related to MST.
Womens Health.gov lists resources by state who provide support for women who have experienced abuse. If you do not find your state or need to speak with someone right away, please call the National Domestic Violence Hotline for help in your area – 800-799-7233. Also read their pages listed in the left column under Relationships and Safety for more resources.
Healthline offers 30 grounding techniques which is a practice that can help you pull away from flashbacks, unwanted memories, and negative or challenging emotions by refocusing on the present moment.
Ultimate Guide to Strength Sports for Veterans – This article makes a strong statement about sports training being a great way to get your mind and body in the right place. As a soldier struggling with their demons this gets you, your mind and body back in alignment working with a team of like minded individuals. Read their info, watch the videos and get inspired to join society once again.
REBOOT Combat Recovery is a 12 week course, not a support group, where they provide practical help for Service Members, Veterans and families dealing with the moral and spiritual wounds from combat trauma. You will not find shortcuts or easy answers, instead you'll find solutions that will last!! Our courses are private and peer-led, inclusive of the entire family, and offered at no cost to participants. Please, if you are a combat Veteran or know of any who could use this course, contact them and have them go to https://rebootrecovery.com and register for a course near you. You will be glad you did.
Reminder Call – Memory Loss and How to Improve Your Memory, this site has a ton of information about memory loss or is it forgetfulness? Reasons for memory loss and how to improve your memory. Interesting and good information for everyone.
Make the Connection provides personal video testimonials and resources to help Veterans discover ways to improve their lives. The site also provides informational resources on mental health conditions such as PTSD and depression, and symptoms of problems such as drug and alcohol abuse.
Save a Warrior is an innovative, evidence-based war detox program that provides a powerful healing experience for Active Duty Military, Veterans, and First Responders who are suffering from Post-Traumatic Stress.
Indiana Health Group IHG – Established in 1987, Indiana Health Group is one of the premier behavioral healthcare private practice organizations in the midwest and the largest in the state of Indiana. IHG provides state of the art, comprehensive behavioral healthcare outpatient services.  IHG is tucked away in a private setting just moments from Highway 31 and Downtown Carmel. IHG offers a peaceful, upscale and confidential environment.  With over fifty highly trained multidisciplinary professionals, IHG is able to provide a team approach for the treatment of almost all mental health & addiction issues in children, adolescents, adults, seniors, couples, and families.
Project Healing Waters – We are dedicated to the physical and emotional rehabilitation of disabled active Military and disabled Veterans through fly fishing and associated activities including education and outings.
Online Therapy for Veterans is a site that lists the top 5 "Online" PTSD Therapy sites. They update their data and choices annually to keep it current. Therapy is a vital tool that can help lessen the impact of the stresses that impact those with PTSD and online options can make therapy more accessible to those in need.
MemoryCare.com/Veterans – has a resource guide for Veterans who are suffering from cognitive issues such as dementia and Alzheimer's. Their resource page is loaded with many helpful articles and links to help Veterans learn about the memory care benefits that are available to them. Many studies have shown that over time, those who have suffered TBI or PTSD also have a higher rate of suffering from these issues such as dementia or Alzheimer's so we are hopeful that our Veterans and their families will be able to find what will assist them here.
The Check-Up by Singlecare – Whether you are a veteran, looking to transition to civilian life, or simply care about someone who has served, you may have concerns about mental health. Mental health is an essential part of veterans' health care, and there are more options than ever to help veterans who may be recovering from their experiences. From PTSD to everyday stress, this veterans' mental health care guide will answer most of your questions.
The Recovery Village – Veterans Resources – There are many substance abuse resources as well as supportive treatment resources to help manage stress, trauma, PTSD and addiction here at The Recovery Village website. They are an educational resource featuring helpful blog posts, articles and resource pages to increase our understanding and awareness of the mental health disorders, substance abuse as well as many other issues affecting us today.
Restoring The Soul After War written by Edward Tick PhD, is a great book that can help one to truly come home. It can help everyone as war touches us all. Read it.
Alcoholics Anonymous is there when you need them so don't forget about them as AA has been helping us all for many years.
Prevail Inc in Noblesville, In – The mission of Prevail is to empower victims of crime and abuse on their path to healing, while engaging the community to support safe, healthy relationships. While Prevail is privileged to work with victims of domestic violence and sexual assault, we also serve victims of other crimes, including victims of stalking, robbery, home invasion, and family members of homicide victims, among others 24/7. Our services are free and include advocacy, safety planning, crisis response, and support groups. We work with individuals and families, including kids, teens, and adults. Last year we were able to serve over 3,600 individuals and received over 1,100 call on our crisis line. If you or someone you know needs help, please reach out.
Help For Heroes Program – from Sycamore Springs is designed to meet the needs of our Military, Veterans First Responders, Doctors, Nurses, EMT's, Paramedics and others in uniform who are dealing with the trauma they have seen. If you are active duty military, a veteran, a first responder or other high-risk front line professional, you know you have strength to do what it takes. Maybe you also know that men and women in uniform often don't get the mental health treatment they need, when they need it. We want to change that. Help for Heroes provides treatment and therapy specifically geared for people who routinely face trauma, physical and mental stress, and life-threatening situations. We offer many paths to recovery, including post-traumatic stress disorder (PTSD) treatment, substance abuse treatment, and medication management. But our programs are a lot more than that, they're a chance to connect with others who are learning to cope with similar circumstances. You are not alone on this journey.
MASH Ministries – Every day, thousands of men and women at home and abroad risk their lives to keep their communities safe. Military conflict, emergency medical care, and threats to public safety take their toll on the those willing to hold the front lines, and often individuals come home to family and friends vastly different from who they were before. Memories, fear, and guilt plague them and it seems that no one can understand. When the world seems to be crashing down, who can help? At MASH Ministries, we understand the unique challenges veterans and first responders face when returning to normal life. From fear to depression to the threat of suicide, we've been there – and we know who can help. Based in Westfield, In. and led by veteran and endorsed PTSD Chaplain Paul Phelps, MASH Ministries seeks to restore hope in the name of Jesus Christ and equip individuals throughout the country as they combat PTSD.
Pets Healing Vets – program was established in 2012 as a bridge to help veterans who are suffering and shelter animals in need of hearts to heal. The mission of Pets Healing Vets is to help veterans suffering from PTSD (post-traumatic stress disorder) and TBI (traumatic brain injury) by pairing them with a carefully selected dog or cat in need of a home. We provide this program to Hoosier Veterans at no cost, for the life of the pet if needed.
At Mattress Clarity we do not sell mattresses, we review most every mattress on the market with our team of sleep experts. Our experts are knowledgeable on what a good night sleep is and most issues one can have in trying to sleep. This site has a special page directed specifically at Veterans and the varied issues a Veteran might have trying to sleep. From basic insomnia issues to drugs related issues to PTSD/TBI, they have some very good answers and links that I hope will help you find your good nights sleep.
Disclaimer:The web sites listed above are not associated with, endorsed by, or sponsored by the Hamilton County Veterans Corp., or its Officers, and has no official or unofficial affiliation with the Hamilton County Veterans Corp., or its Officers, or its membership. This web page was created as a resource for the members of the Hamilton County Veterans Corp. as well as use by the general public