These sites will link you to Programs that need our help so they may continue to assist our Heroes and their Families. Please look them over and find the ones who you are comfortable with and make that all important donation!!
Honor and Remember – is a nationwide organization to publicly Honor and Remember every American Fallen Service Member and recognize the enduring sacrifice of every family. They need donations so they may continue Honoring our Fallen Heroes Families and achieving their goals which are 4 fold – 1: To establish the Honor and Remember Flag as a national symbol of Remembrance. It has been adopted by 26 states thus far. 2: To educate our nation on the meaning and importance of the Flag and its impact on our Gold Star Families. 3: To present one of the Flags into the hands of those Family members. 4: To build with each Gold Star family an ongoing and significant relationship of Comfort, developing and organizing annual and continuous programs that reinforce a positive message of remembrance. Please check out their site and assist them in their endeavors to Honor & Remember.
Helping Veterans And Families of Indiana works tirelessly to end homelessness among Veterans. Through a unique partnership with the U.S. Department of Veteran's Affairs and many community organizations we provide housing and re-integration services for homeless Veterans and programs to prevent at-risk Veterans from becoming homeless. They operate over 13 distinct housing properties in Indianapolis, have employment specialists who will assist Veterans in finding a stable job, they run a food pantry with clothes, hygiene and food products , they continually are a voice for our Veterans and work in our communities to ensure we are reaching those who need help. But to do all these great things, they need your help so please look at their website to either volunteer, make a monetary donation or to check their list of goods they need to make a donation. Always call 317-951-0688 to schedule a delivery of goods. Their office is at 964 N Pennsylvania St Indianapolis, In and it's open from 8am till 4:30pm – Please check their donation page to see the items they do NOT accept.
Homeless & ReEntry Helpers (HRH's) and Helpers Helping Others Outreach Team (HHOOT) work together to bring businesses, government, volunteers, street outreach, street ministries & service providers together to better serve our homeless, seniors, Veterans, offenders and ex-offenders. Anyone in need is encouraged to contact one of HRH's Support Coaches Monday thru Friday from 10am to 4pm, call for an appointment 317-635-0500 or Veterans call 317-917-0500. Where anyone in need can get a hot meal, clothing & personal hygiene items. Click HERE to see all their links for Jobs, Housing, Education & Government Listings. Their warehouse is located at 2457 E Washington St Suite F, Indianapolis, In. and they need your support to continue to assist those Hoosiers in need either by monetary donations or donations of goods. See the flyer below for the goods they need. They also serve dinner every day at HHOOT's Diner 918-920 E Michigan St. Mon-Fri 6-8pm, Sat & Sun 3-5pm. Please help Don Hawkins and his team take care of our needy!!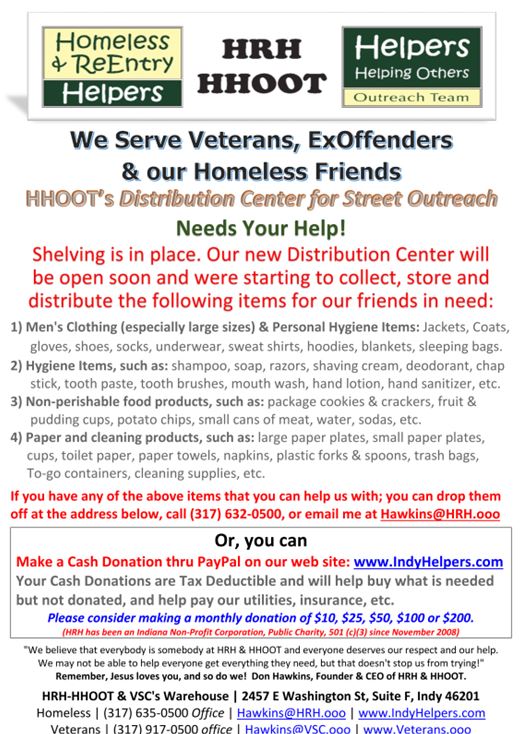 Please go to the Operation Comfort Warriors website to see all the great things this organization does and make a donation. Operation Comfort Warriors is a program dedicated to meeting the needs of wounded military personnel, providing them with comfort items not usually supplied by the government. OCW ensures that patients at U.S. military hospitals and warrior transition units are given items like sweat suits, DVDs, puzzles, electronic devices, books, calling cards and more. OCW also provides larger items such as ping pong tables, entertainment centers, computers, kayaks and other recreational goods for use by wounded warriors in common areas.
Indy Honor Flight Network – Honor Flight Network is a non-profit organization created solely to honor America's veterans for all their sacrifices. We transport our heroes to Washington, D.C. to visit and reflect at their memorials. Top priority is given to our World War II Veterans but we are flying Korean and Vietnam War Veterans as well. Please make a donation so they may continue their wonderful program before they are all gone!! Locally we team up with Indy Honor Flight as they fly out of Indianapolis. Every flight is full as we try to get all our WWII & Korean Veterans on each flight and fill in with our Vietnam Veterans. As of Nov 2018 we have a waiting list of 1000 Vietnam Veterans so if a Vietnam Vet turns in his/her application today it will be 3 years before you would be scheduled, so get your applications in now! There are two other Honor Flight Networks in Indiana, one is Southern Indiana – Evansville, and one in North East Indiana – Fort Wayne. If you know of any Veterans from WWII, Korean or Vietnam Wars, please have them fill out the Veteran Form and mail it in – address is on the back page of the form. Also, if you or anyone you know would like to be a volunteer guardian to help us transport our Heroes, please fill out the Guardian Form. If you are interested in the Northern or Southern Indiana connection, please use the forms on their website.
The Mission of Freedom Alliance is to advance the American heritage of freedom by honoring and encouraging military service, defending the sovereignty of the United States and promoting a strong national defense. Freedom Alliance , a 501(c)3 educational and charitable foundation, was founded in 1990 by Lt Col Oliver L. North, who now serves as the organization's honorary chairman. We will work to "keep America strong, keep America prosperous, and keep America free," said North upon the founding of Freedom Alliance. And so we have.
Fisher House – Helping Military Families Supporting America's military in their time of need, we provide "a home away from home" that enables family members to be close to a loved one at the most stressful time — during hospitalization for an illness, disease or injury.
We will get you there… Angel Wings for Veterans.org serves to ensure that no financially-stressed wounded warrior, veteran or adversely-affected family member is denied access to: Distant specialized medical evaluation, Diagnosis, Treatment, Counseling, Rehabilitation, Healing & Restorative programs or Programs assisting with reintegration into a productive life. The majority of ACV missions are through commercial airline tickets.
Good Samaritan of Hamilton County, Meeting People at Their Need. It is part of the mission of GSN to provide a strong physical and financial base for all clients in supporting them and helping them find ways to break the cycle of poverty and poor life choices and lead them in the direction for a positive, strong, future. The mission of GoodSamaritan Network is to demonstrate the unconditional love of Christ by serving the physical, financial and emotional needs of at-risk individuals and families in Hamilton County. GSN can only accomplish these acts of service through the volunteer contributions, extreme engagement and deliberate participation of numerous organizations and individuals. It is in the empowerment of serving by our members, ministry partners, volunteers, and the entire community, that we are able to provide loving hope. Additionally, we instill empowerment for transforming lives and equipping individuals in developing strong families, friends and neighbors; as together we embrace positive life changes.
USO – Millions of times each year in hundreds of locations around the globe, the USO lifts the spirits of America's Troops and their Families. A non-profit Congressionally chartered, private organization, the USO relies on the generosity of individuals, organizations and corporations to support it's activities. Please help to keep the USO alive!!
Military Warriors Heroes Support Foundation needs our HELP!! This non-profit foundation does so much for our Heroes – Homes 4 Wounded Heroes and Homes 4 Gold Stars where they award mortgage-free homes around the country to our Heroes or Spouses who's loved one made the ultimate sacrifice, Apartments 4 Heroes & Gold Star spouses where they will assist in acquiring temporary living if one is not ready for a longterm commitment, CEO's 4 Heroes connecting Veterans with companies for employment opportunities, Skills 4 Life offering a variety of programs from mentoring to recreational outings to financial planning and counseling, Transportation 4 Heroes providing access to reliable transportation as well as mentoring to develop the skills necessary for longterm vehicle ownership. So please go to their site and make a donation!!
Vietnam Veterans Memorial Fund – Established in 1979, the Vietnam Veterans Memorial Fund is dedicated to preserving the legacy of the Vietnam Veterans Memorial in Washington,  D.C., promoting healing and educating about the impact of the Vietnam  War. Authorized by Congress, its most recent initiative is building the  Education Center at The Wall, an underground facility near the Memorial  that will help visitors discover the stories of those named on The Wall  and celebrate the values embodied by all service members who served in  all of America's wars. Other Memorial Fund initiatives include  educational programs for students and teachers, a traveling Wall replica that honors our nation's veterans and six events held each year at The  Wall to honor and remember those we lost during the Vietnam War. To  learn more about the Education Center at The Wall, visit www.buildthecenter.org. Text WALL to 20222 to make a $10 donation to VVMF
Operation Gratitude seeks to lift spirits and meet the evolving needs of our Military and First Responder communities, and provide volunteer opportunities for Americans to express their appreciation to all who serve our nation.
Every year, Operation Gratitude sends 150,000+ individually addressed care packages to Soldiers, Sailors, Airmen and Marines deployed overseas, to their children left behind, and to New Recruits, Veterans, First Responders, Wounded Warriors and their Care Givers. Each package contains food, hygiene products, entertainment and handmade items, as well as personal letters of support. Through Collection Drives, Letter Writing Campaigns, Craft Projects and Care Package Assembly Events, Operation Gratitude provides civilians anywhere in America a way to say Thank You through active, hands-on Volunteerism. Operation Gratitude is a 501(c)(3) non-profit, volunteer-based corporation, funded entirely by private donations. Since its inception in March, 2003, Operation Gratitude volunteers have assembled and shipped more than One Million Care Packages.
 Operation Honor is a 501C3 public charity based in Owen County Kentucky that hires Veterans to build various hand-crafted products including burial and retirement Flag cases. We are hard at work developing our programs an trying to raise money to build our Veterans warehouse and technical center. Once our warehouse is up we will be able to hire more Veterans and expand our product line which will be sold across the USA. It will be nice to have Burial and Flag Retirement cases made right here in American and by our Veterans!! Please consider buying some of our products and making a donation so that we may hire more Veterans – Enhancing the lives of Veterans… one mind at a time.
Veteran Car Donations is another great way to help our Veterans in need. At Veteran Car Donations they will do all the paperwork, pick up your vehicle for free and you'll receive a top tax deduction for assisting our Veterans in need. They accept the following vehicles in or out of working order – Autos, RVs, Buses, Boats, Snowmobiles, SUVs and riding lawnmowers/tractors.
Disclaimer:The web sites listed above are not associated with, endorsed by, or sponsored by the Hamilton County Veterans Corp., or its Officers, and has no official or unofficial affiliation with the Hamilton County Veterans Corp., or its Officers, or its membership. This web page was created as a resource for the members of the Hamilton County Veterans Corp. as well as use by the general public