LOYALTY – HONOR – RESPECT
Veterans Serving Veterans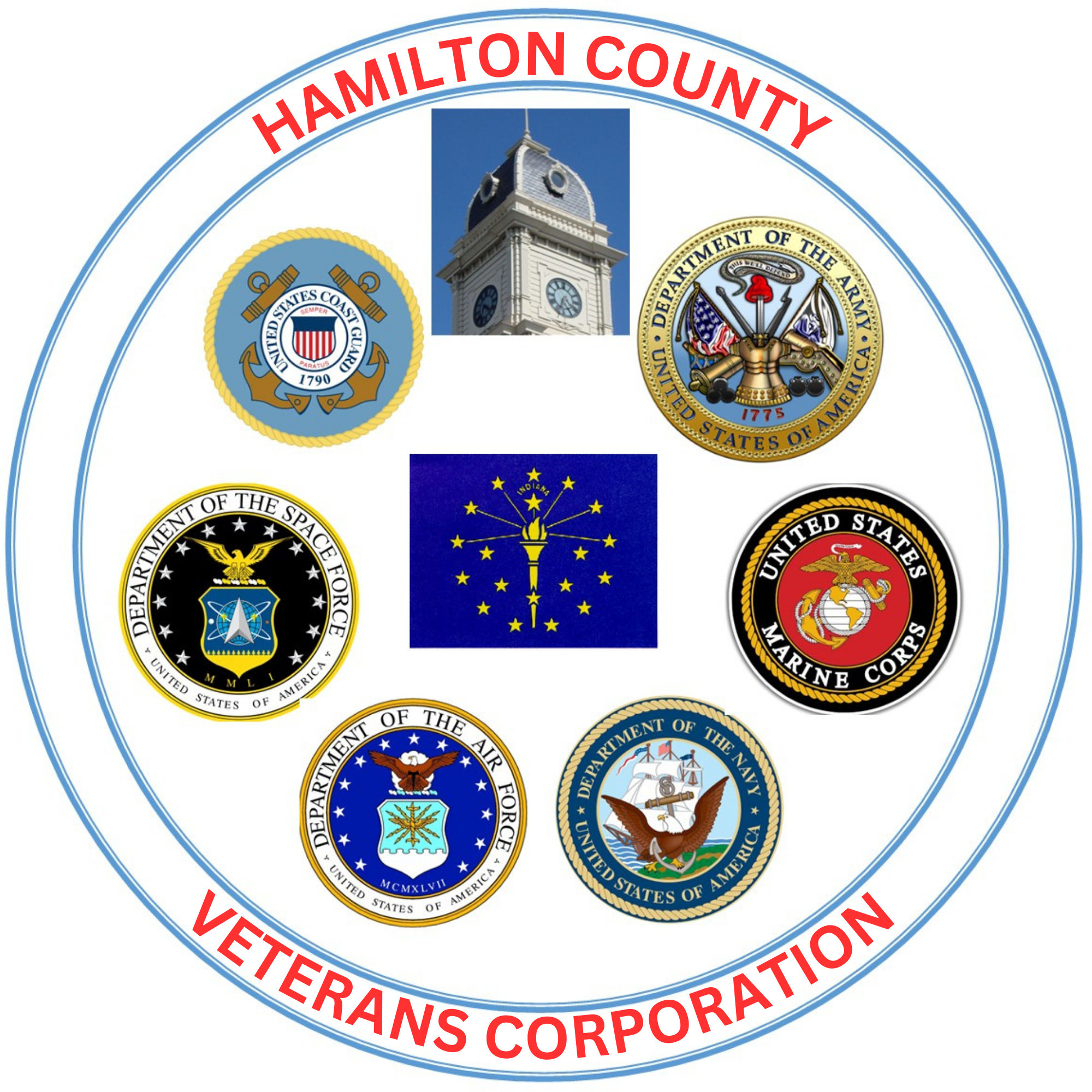 Supporting Our Troops
If you, or a Veteran you know, are in an emotional crisis, Please Dial 988 for the Veterans Crisis Hotline at 800-273-8255 and press 1 to talk confidentially with a Veteran crisis responder now. If you are a Female Veterans in crisis, call 855-829-6636. You may also contact the Crisis Line via their website at www.VeteransCrisisLine.net These are 24/7 365 days a year. For more information or to speak with the Indianapolis VA Suicide Prevention Coordinator please call 317-988-3213 between 8am and 5pm Monday thru Friday. Or dial 2-1-1 here in the state of Indiana if you need any kind of assistance at all.
Welcome to the Hamilton County Veterans Corporation (HCVC) website where "Veterans Serve Veterans". If you or any Veteran or Family member have Military / Veteran, benefits, compensation questions, issues or concerns about anything that is Military or Veteran related,,,, we hope our website will assist you in finding your answers. From helping those who are in a life crisis to PTSD, Suicide, Addiction, Medical, Mesothelioma, Agent Orange, Employment / Training, Homes and Financial Help, Legal Help, Military Records and oh so much more. Please look our site over. We are continually looking at all helpful Veteran links and will add those who are truly helpful for our Veterans. If you need direct help with your health or VA Claims, your first point of contact should always be your County Veteran Service Officer, see their page listed in the MENU up top.
The Hamilton County Veterans Corporation (HCVC) has been assisting our community since 2003 and we became a 501(c)(3) nonprofit Military, Veteran organization in 2012. We are proud members of our American Legions, VFWs, AMVETs and other Veteran Service Organizations here in Hamilton County. As members of these Veteran Service Organizations, we Hamilton County Veterans are committed to helping our Active Military, Veterans, Fallen Heroes and their Families. We are always working on special projects which usually require your help and funds so that we may see them through. From hosting resource fairs, refurbing Memorials, Monuments, gravesites, sending care packages to our Troops who are away from home to assisting their Families who are struggling to hold things together back here at home. We are members of local coalitions, we attend meetings like Joining Community Forces, we are connected to Hamilton County, it's towns and cities commissioners/council members/Mayors, all to help our Military Veteran community.
You too may help, just think about how you would like to help our Veterans and let us know – see our contact page. If you find a few extra dollars in your pocket, then PLEASE make a donation online by selecting the DONATE button at the top of this page so that we may continue these important projects for our Heroes and their Families!! Tax ID # will be furnished when you make your donation. Cash/Check Donations may be sent to Hamilton County Veterans,,, PO Box 503  Noblesville, IN 46061-0503.
If you are in the Military or a Veteran and reside in Hamilton County, go to our Membership page and sign up to become a member of the Hamilton County Veterans Corp so you too may help. OR, come to one of our meetings to join. We hold our meetings at 6pm on the first Monday of the month at the Fishers American Legion Post 470 in the big American Room. It's located at 9091 E 126th St Fishers, In. See you there!!
HCVC Mission Statement
To enhance the lives of our Military, Veterans and their families through providing information and resources on veteran affairs, medical care, health care, housing, financial assistance, legal assistance, employment and educational services as well as improving communications across all Veteran Service Organizations and within the community. We are – Veterans serving Veterans so we all may live a fulfilled life right here in Hamilton County.